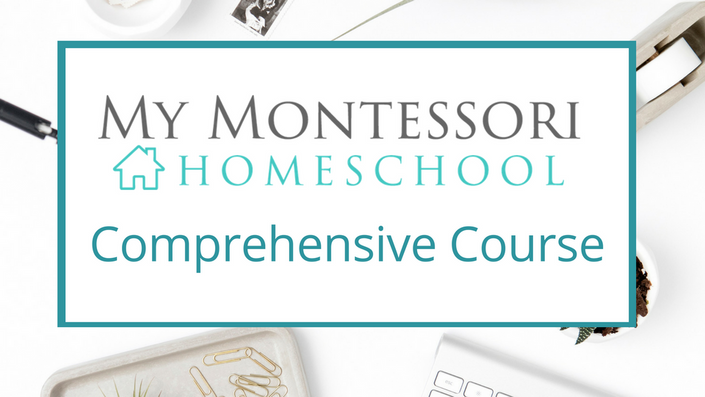 [Comprehensive] - My Montessori Homeschool - A Course for Parents & Teachers
Gather the Tools, Embrace the Philosophy, Build the Community, Conquer the Obstacles
Learn More
Enroll Now!
"Hi there! I'm Marnie! I am so happy you're here. I know you will find this course useful to your homeschool journey. I bring together everything I've learned over the years as an AMS Montessori trained teacher & parent plus coaching and community to support and encourage you. Remember, I will be with you every step of the way. You can do this!"
HOW IS THE COURSE STRUCTURED?
Content, Systems, & Resources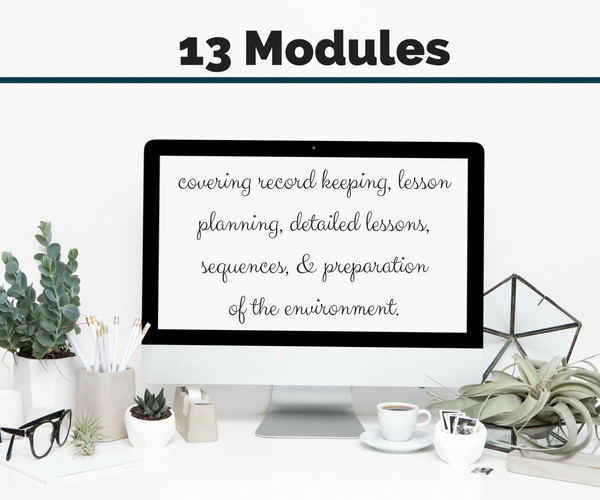 Community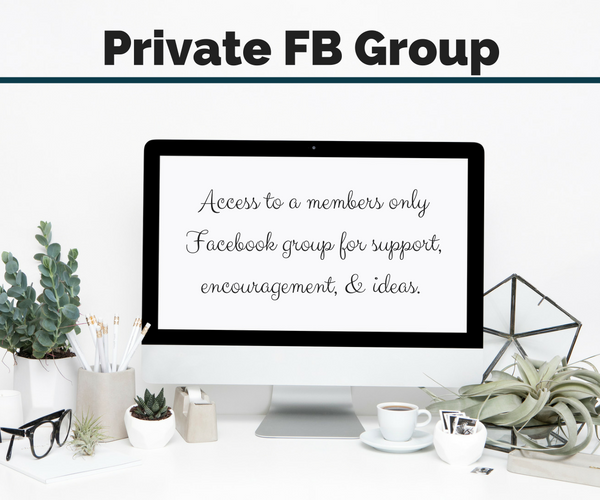 Hands-On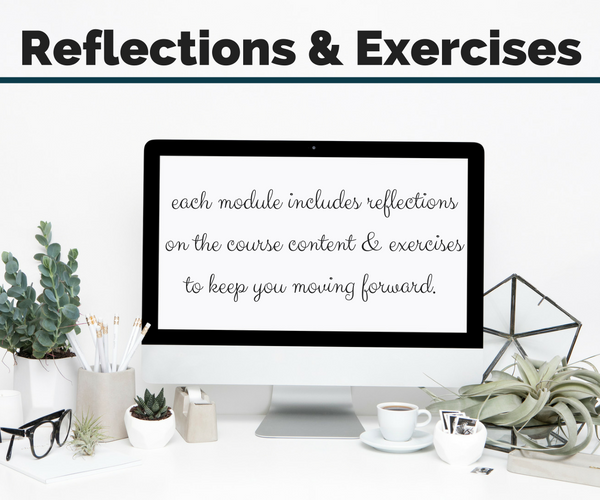 COURSE ROADMAP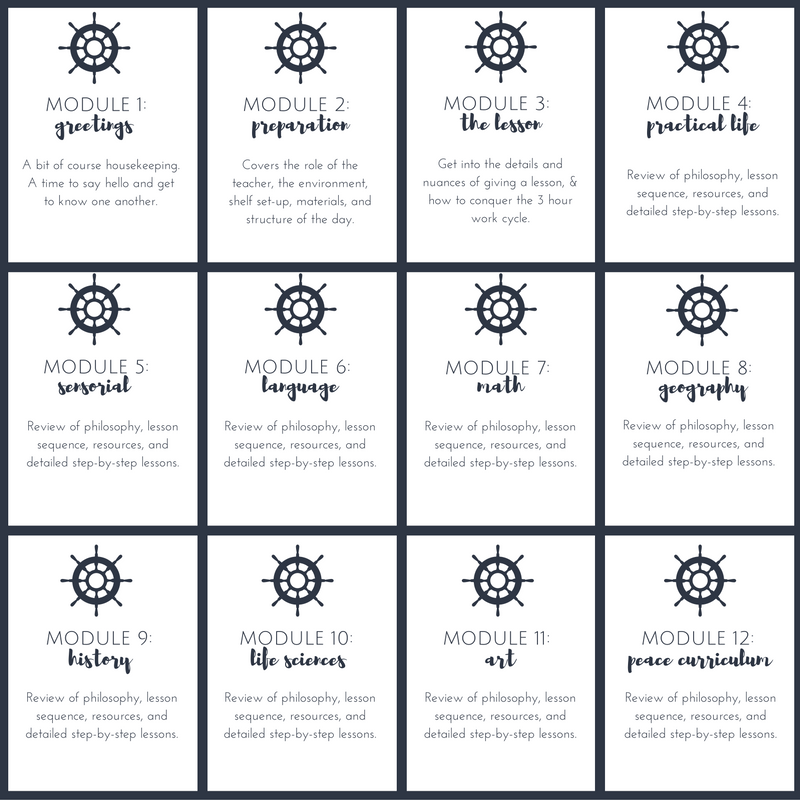 PLUS EXTRAS & BONUSES!!
Variations & Extensions Lists
Bonus Lessons
Worksheets, Cheatsheets, Blueprints, & Resource Lists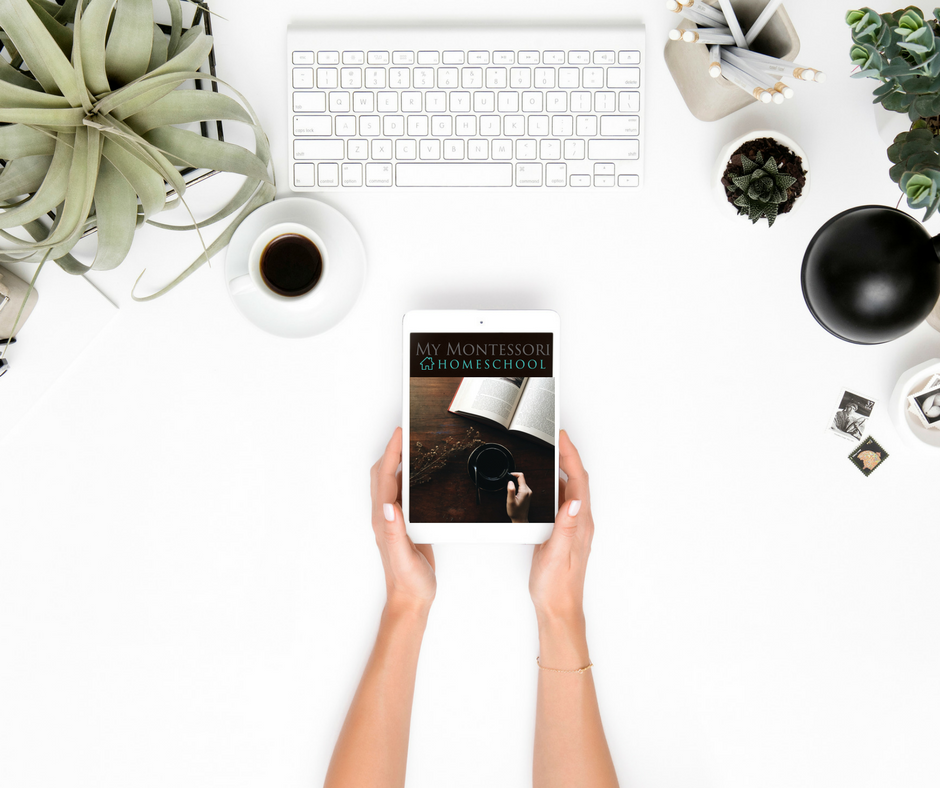 Frequently Asked Questions
Will the homeschool set up be easy to set up when traveling?
I am a strong believer in Montessori as a lifestyle. From that standpoint, logistically you are all set. Montessori is a mindset to a large extent. As far as materials, etc, it depends on the ages of your children, of course. Consider seeking out a school or co-op in the areas you'll be traveling. It is doable to adapt the materials to "travel sized" and DIY. Keep in mind that absorbing the content (for yourself to be able to guide the child) takes time. So, within this context, the time frame of your travel matters.
What if I am unhappy with the course?
We would never want you to be unhappy! If you are unsatisfied with your purchase, contact us in the first 30 days and we will give you a full refund.
How long do I have access to the course?
How does lifetime access sound? After enrolling, you have unlimited access to this course for as long as you like - across any and all devices you own. In addition, you have lifetime access to content and course updates.
When does the course start and finish?
The content will be "dripped" out to you on a week by week basis. So, at the end of the 12 week time period, you will have access to all modules. Before that time, in sequential order, the modules will become available to you. It is a completely self-paced online course - you decide when you start and when you finish each module.
There is so much information available on the internet for FREE. Why would I pay for a course?
You're right. There is a lot of information available for free out there in the virtual world. Some of the content is good and authentic. Some of the content, actually most of the content, is not so great, nor is it authentic. I have used my Montessori training to create this course. The content is authentic. You have a guarantee. In addition, the resources I have collected and sourced for your within this course are legit. I have researched, sought out, and vetted each and every resource in this course. Trust me.
I have an infant. Is this course a good fit for me?
I know I am biased but I say "yes". If you're planning on homeschooling, this course will prepare you. The fact that your child is younger than 3 years old gives you the time and space to truly embrace Montessori. There is ample content to implement even with younger children included in the course.
How long is the course?
There are 12 modules, which become available to you on a week by week basis (drip approach). You have access to the content anytime, all time, and for a lifetime. Don't worry, I'll check in with you along the way to make sure you're moving forward with the content.
How often is MMH open for enrollment?
Three times a year. The next opportunity for enrollment will be in winter 2023.
I noticed one of the bonuses in all access to your printables shop? When do I get access to that bonus as an enrolled student?
This bonus is available 50% into the course modules. So, after six weeks you will have access to the shop with information included within a lesson within the course. This bonus goes away next enrollment. At $500+ in value, you don't want to miss this one.
I really only want to learn about Practical Life. Is is possible to take the individual module?
Yes! Learn about individual courses here.​
Are there any assignments or requirements to the course?
Nothing is required. There are exercises and assignments but it is all SELF-PACED. The benefits are the community and the lifetime access to the content. I provide quizzes for those students wanting a certificate of completion for the MMH course.
Is it possible to earn a certificate for this course?
Yes. I can offer you a certificate of completion. This certificate may qualify you for hours as an early childhood educator but it does not make you Montessori certified. MMH is an online program for homeschoolers, day care providers, and preschool teachers looking to bring Montessori into their existing learning environments. You will not be able to say that you are Montessori certified as MMH is not an accredited program.
Is the course instructor led?
Yes and no. I'm here for support but this course is self-paced. In addition to having access to me via email and online forums, you are a part of a robust community as a tremendous resource.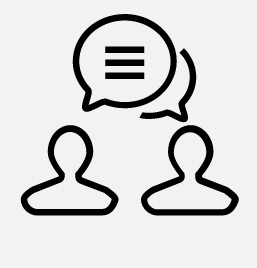 WHAT OTHERS ARE SAYING...
---
Readers
"I have been following Marnie and her work for the last year. All I can say is that I wish she and her newsletter had been around 20 years ago when I was in the classroom full-time. " ~ Carrots Are Orange reader
---
Parents
"I am always amazed at Marnie's interactions with people (inside and outside the classroom), both kids & adults. She is approachable, friendly, always up for offering knowledge & guidance. She shows a genuine interest and love for helping people with methods to approach learning and life that works for them." ~ Michelle S., Montessori parent
"I am a mom of 3, and Montessori draws to me. Last year I tried to homeschool my 5 year old and it was challenging. I had many of the materials but the implementation and sequencing had me baffled. I searched Pinterest and Facebook and Marnie's ideas and programs kept in coming up. Then I watched her teach a simple pouring lesson and it opened my eyes and I knew I wanted to learn from her. I got on the bandwagon and ordered her 30 days to Montessori and it really was helpful to me and my family. I have been awaiting her homeschool program with bated breath, because I know it will be high quality just like her other programs and materials are." ~ Jennifer L., Homeschooling parent
---
Students
"I participated in Marnie's 30 days to Montessori e-mail course. I knew Montessori was the type of education and lifestyle I wanted to give to my kids. Marnie's course was great in helping me lay the ground work for our Montessori lifestyle. We are beginning Montessori homeschooling. Her course has helped me better be able to prepare an environment and has helped me create a vision for my family and homeschool." ~ Madison, 30 Days to Montessori email student
---
Montessori Teachers
"Marnie has a wealth of information to offer about Montessori homeschooling, based not only on her training but personal experience as well. You only have to take a cursory look at her blog to recognize that she is the real deal. She knows how to present information in an easy-to-understand manner and can hone in on the absolute essentials you need to know." ~ Seemi, Trillium Montessori, Montessori Directress
All Access to My Shop with 100s of Montessori Downloads!!
Happiness Guarantee